Silicon Europe Project
Project description
Six of the leading European micro- and nanoelectronics (MNE) regions have joined their research, development and production expertise to form the transnational, research-driven cluster "Silicon Europe - The Leaders for Innovative Electronics".
The cluster partners include national consortia that all have established structures for the close cooperation of research, business and the authorities ("triple helix"). Within the triple-helix consortia were the following MNE clusters:
Silicon Saxony - Project coordinator (Dresden, Saxony, Germany)
Minalogic (Grenoble, Rhône-Alpes, France)
DSP Valley (Leuven, Flanders, Belgium)
High Tech NL (Eindhoven, South and East Netherlands, The Netherlands)
Business Cluster Semiconductors (Nijmegen, The Netherlands) as associated partner
ME2C (Villach, Carinthia, Austria) as associated partner
Within the project, the partners have collaborated to create an open European collaborative platform to strengthen the leading role of the European semiconductor industry in the global economy and value chain. Silicon Europe has intensified the transnational collaboration between the regional clusters.
Besides the MNE clusters the following partners were also in the project team:
AEPI - Grenoble-Isere Economic Develoment Agency
Ville de Grenoble / Grenoble-Alpes Métropole
BOM (Brabant Development Agency)
Oost NV (East Netherlands Development Agency)
IWT (Flemish Agency for Innovation in Science & Technology)
Eurogrant
---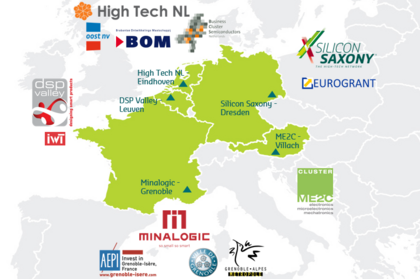 ---
Objectives
Promotion of micro- and nanoelectronics as Key Enabling Technology for the traditional industry, unlocking new solutions for the major societal challenge on energy efficiency.
Securing European know-how for Europe: Using inter-cluster synergies and complementarities
a) with research institutes and universities, for access to the newest technologies and to highly qualified competencies and staff,
b) with fabless design houses for the development of new functionalities and/or architectures for the micro- and nanoelectronics,
c) and with value adding system integrators for the market valorisation.

Opening up new markets and boosting competitiveness especially of SMEs by improving innovation and technology transfer from research to market, and by developing an internationalization strategy inside and outside Europe, supported by the creation of a common identity for a (virtual) European semiconductor cluster.
---
Results
The main outcomes of the project are:
Development of a common European identity and definition of a European meta cluster for micro- and nanoelectronics
Strengthening the Silicon Europe brand
Drawing up a Joint Action Plan (JAP), a step-by-step strategy for the time till 2018
o joint strategy for internationalisation
o transfer of best practices between the regions regarding improvement of collaboration
o dedicated financial plan for implementation
Development of an internationalisation strategy for actions beyond Europe, which will be implemented within the COSME project ESCiP (European Semiconductor Cluster Internationalisation Project
Identification of relevant international partners for cooperation outside participating clusters and helping SMEs to internationalise, e.g. fact finding mission to Taiwan in September 2014 and 2015
Identification of potential sources to finance the activities described in the Joint Action Plan
Enlarging the Silicon Europe partnership by joining the Silicon Europe Alliance of another six European clusters (Distretto Green & High Tech / Italy, MIDAS / Ireland, GAIA /Spain, NMI / UK, mi-Cluster / Greece, SCS Cluster / France).
In-depth SWOT analyses of the involved regional ecosystems and clusters, identification of complementarities, synergies and smart specialisation potential.
A detailed inventory of the participating clusters in terms of RTD offer and demand, policies and cluster performance
A consolidated model of the value chain for the semicon industry, also in relation to the markets that semicon serves as a Key Enabling Technology
---
Public Project Deliverables
The developed public deliverables for the project are available on request (info@silicon-europe.eu):