Silicon Europe Worldwide awarded with the ESCP-4i Label
Silicon Europe Worldwide was awarded with the "European Strategic Cluster Partnership - Going International (ESCP-4i)" label during the Clusters Go International Launch Event in Brussels on the 8th of March 2016.
By signing the ESCP-4i charter, Silicon Europe Worldwide commited itself to follow the main principles of the "Cluster Go International" call. The aim is to support the internationalization of SME members beyond Europe and to contribute to the European Commission's objectives to boost growth and investment in Europe.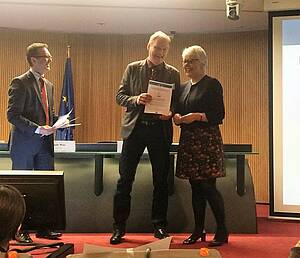 Johan Lecocq (project coordinator DSP Valley) receiving the ESCP-4i Label
---