Microsoft sets up AI center in Taipei
The establishment of a Center for Research and Development on Artificial Intelligence (AI) in Taipei by the Microsoft Taiwan Corp. is welcomed by Taiwan's government and represents a clear vote of confidence in the country's human capital, Prime Minister Lai Ching-Te said on 10 January.
The center is expected to advance AI's domestic development and harness Taiwan's top capacity in high-tech manufacturing, information and communication technology (ICT), semiconductors, and will make a vertical integration usable, he added. According to Premier Lai, the government will spend 452 million euros over the next five years to create an environment for AI innovation. Referring to statistics released by the World Economic Forum (WEF) in 2016, Premier Lai predicted that by 2030, AI global production would reach $ 3 billion.
The center is the first of its kind in Taiwan, founded by a major international company with full government support. Microsoft will invest a total of € 28 million to build a 100-person team over the next two years and to double its size over the next five years.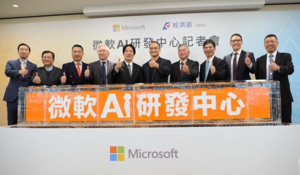 Source: Taiwan representation of Germany, Berlin
---