Silicon Europe Alliance Cluster Forum: 10 European clusters will meet in Provence hosted by SCS Cluster
The next Silicon Europe Cluster Forum (SECF), flagship event of the intercluster organisation Silicon Europe Alliance which gathers the main European clusters in the field of the semiconductors and of the microelectronics industry, will be held in Gardanne and Rousset on May 18th and 19th, 2017.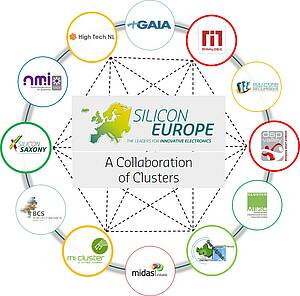 About twenty participants from all over Europe are expected, among which representatives of Minalogic and the Grenoble area, DSP Valley (Leuwen, Belgium), Silicon Saxony (Dresden, Germany), Distretto Green and High Tech Monza Brianza (Milan, Italy), MESAP (Turin, Italy), Silicon Alps (Austria), MIDAS (Ireland), High Tech NL (Eindhoven, Netherlands), and GAIA (Basque Country, Spain).
The program includes the visit of the MicropackS Platform, Microelectronic Center of Provence Georges Charpak, STMicroelectronics site and new Nanospace platform of the company Orsay Physics.

The event venue of the SECF rotates among the members of the alliance. This time, the French SCS Cluster will host the European cluster delegation.


SCS Cluster
The SCS Cluster, located in Gardanne, France, focuses on Secure Communicating Solutions covering the entire ICT value chain, from silicon to end uses. The participants of the event will get the opportunity to learn more about know-how of SCS Clusters's members in the field of micro-electronics and the quality of the infrastructure and support to innovation in the PACA region.
The SECF will give international visibility to the SCS Cluster's ecosystem which goes perfectly with the Micro 2020 regional strategy aiming at maintaining and creating jobs in the sector of microelectronics in PACA by developing innovation and international partnerships.


Contact
Guillaume Roux
guillaume.roux@pole-scs.org
+33 (0)6 64 50 88 05
---