Joint booth at SEMICON Taiwan 2020
With over 50,000 visitors and 700 exhibitors, SEMICON Taiwan 2019 was one of the world's largest semiconductor trade fairs last year.
We are pleased to be able to offer you a joint booth participation during SEMICON Taiwan 23 – 25 September 2020 in Taipei) again this year. Below, you will find information about the trade fair profile and our exhibitor offer.
ABOUT SEMICON TAIWAN
SEMICON Taiwan is the premier annual industry event for micro- and nanoelectronics in Taiwan. It provides an excellent opportunity to expand into the Taiwanese market and to reach buyers, major manufacturers and companies along the semiconductor value chain shaping the future of advanced electronics.
OUR OFFER
Silicon Europe has developed an attractive booth concept for the joint and individual company presentation. As always, we are offering you an all-inclusive trade fair service including the entire booth organization and support, design, production and set-up of the exhibitor terminals and the creation of an exhibitor directory of the joint booth participants.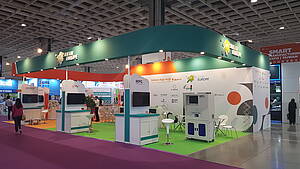 EXHIBITOR PACKAGE
6.300,- EUR* EARLY BIRD
(Net prices/excluding VAT) exhibitor terminal (until 31 March 2019)
6.900,- EUR* REGULAR
(Net prices/excluding VAT) exhibitor terminal (until 31 May 2019)
*plus SEMI co-exhibitor fees, prices apply for members of Silicon Europe cluster partners, non-members pay a surcharge of 50 %
More detailed information regarding the booth concept and services in Registration Form.

Further information: